I've been on vacation for the past week and have been unable to post. So, what is a better way to start than to answer one of the questions I receive most frequently:
What addons do you use? Can you post your UI?

I want to make one thing clear up front. In no way do I think I have an awesome UI, or that any one should mimic it. I do not have an overall design plan for my UI as some people do, and there are probably several ways that my UI could be improved if I knew about the addons and had the desire to maintain them.
My UI "design" is the product of two very simple concepts. 1. I have a problem. An addon helps to fix the problem. I use the addon. 2. Important info in the center, Secondary info on the sides, with on exception.
If you have a suggestion on how to improve my UI, or think I left something out, please post them in the comments. I think that will be helpful for everyone. Also, please post a link to your UI.
The Picture: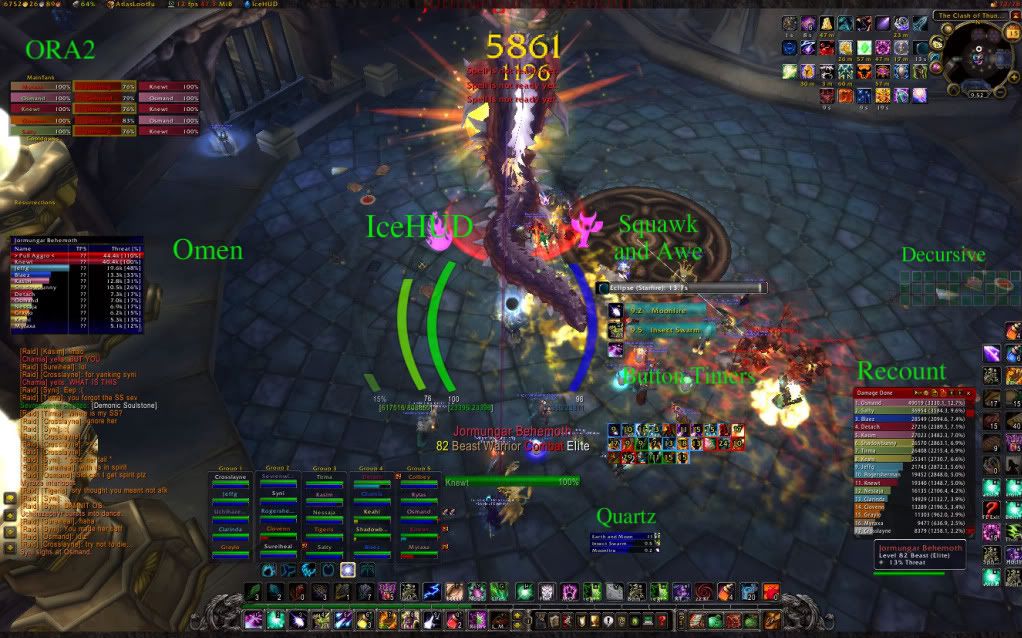 The Addons:

Power Auras Classic - I love this addon. If you have any issues with situational awareness Power Auras will help. To quote the WoWInterface page: "This addon was created to provide visual cues (auras) when you gain buffs, debuffs and many more." I use it for several things.
Raid Buffs and Debuffs: I started using it with Hodir so that I would know when I had the various buffs or when Bitter Cold started to stack to high. Then I started to see all these other fights where it would be useful. This aspect is very nice for any fight where you have to run away from the group.
Health Warning: You can set it up to warn you when your health gets below a certain level. I've tried to use other addons for this with mixed success, but I think PAC does it best so far.
Cooldowns: One of my big problems as a raiding moonkin has always been watching my DPS cooldowns. I wouldn't see them come back up and I end up using them a minute late if at all. You can set up PAC to show you when an ability is available. Above my HUD you will see two little icons. The totem next to Squawk and Awe is my Force of Nature indicator, and the Fireball underneath the IceHUD text is my Starfall inicator. You can also set it up to look for "On Use" trinkets.
IceHUD
- This is another survivability addon for me. It allows you to put all of your Player and Target info right in the center of the screen. I originally picked it up because I wanted to have my health bar closer to my toon to help recognize when my health was low. It took a while to get used to and I had to turn off the Blizzard Unit Frames to force myself to use it, but I think it is working well know.
Some of you may be thinking that XPeral or Pitbull is better. I tried both of them and personally didn't like either. I found both hard to configure and very cluncky.
ORA2
- This is a raid management tool. Some of you may be thinking "I am not a raid leader, therefore I don't need it." Wrong. It is true that a majority of its fuctionality can only be accessed by a raid leader, but a lot of that functionality only works if the raid members have the addon. However, it does have uses for a the average raid member. The Tank list is great for switching targets and monitoring progress on fights like Mimiron phase 4, but I think the best part is the long cooldown timer. As a druid it is important that the raid knows if our Battle Rezs are up. If every druid has this addon then the Raid leader should never have to ask who has a rez up, and can give instructions more clearly during raid. If you guild requires this addon, do them a favor and get it,.
Omen
- If you're a raider and don't know what Omen is then you need to figure it out quickly. Omen is a threat meter. I have put it on the right side because it takes up a lot of real estate, and I generally don't have to worry about threat. However, if threat is generally an issue for you I suggest you put it some where else or come up with another way to manage it. IceHUD has a threat bar that you can include in the UI and I find it is helpful on the few situations where threat is a big issue for me.
Squawk and Awe
- This is probably the most commonly used addon for moonkin. It does several things but I use it for only one reason. It is a great addon on for managing your Eclipse buff and cooldown. In 3.1, this addon or something like it is pretty much requred for maximizing DPS. In 3.2, it will be much less important. I will probably still use it to help identify which Eclipse buff I have and others will continue to use it for the DoT timers and such.
ButtonTimers
- I use this addon as a DoT timer, but it is kind of an Action bar addon as well. The buttons on your screen are clickable if necessary and it can work with an addon like OmniCC to show your cooldowns. It is a little hard to configure, but I really like it.
Decursive
- This is a required addon for a moonkin. We can now Decurse and Abolish poison in Moonkin form therefore if it is asked of us we need to do it. In the screenshot I have it over on the far right, but in a fight where I am expected to decurse I move it to above Squawk and Awe. What I like about it is that it shows me who needs to be decursed and I just have to click the box. Its a bit like playing wack-a-mole, but very easy.
Quartz
- This is a fairly standard cast bar addon. Whats nice about it is that it shows you how latancy affects your cast so you can cast your next spell a little early. It also has DoT and Buff timers, but are a little hard to read. I also use it to see my target's cast bar. That way I can make better use of Barkskin and rooting bomb bots.
Recount
- I used to hate damage meters. My damage sucked, and most people seemed to only use them to stroke their e-peen. However, they are helpful for a couple of reason that many people over look. The primary thing I use recount for is Death information. If I died early I want to know why. Could I have prevented it? Is there something I need to be more careful to avoid? It's also good to see why your DPS is abnormal. Who is dispelling? Who is taking to much damage? Basically a lot of good info to help your raids be a little more successful.
OmniCC
- This is a very simple little addon that "adds text to items/spells/abilities that are on cooldown to indicate when they'll be ready for use." It adds a number to your abilities that are on cooldown instead of the shadowy clock animation that Blizzard uses. It allows you to dafinatively know how much time you have left on your cooldowns instead of estimating.
MultiShot
- It takes a screenshot when specific events happen in game. You can configure it for multiple events like, levels, achievements, or boss kills. I picked it up for the blog, but I am thinking of dropping it. It will fill up your screenshots folder quickly. I have to go in every month or two and clean it out. Also, most of the time I don't have my camara pointed in the best direction for a screen shot, so a lot of the photo's are useless.
Auctioneer
- If you want to be a goblin this is a required addon. Heck, I recommend it even if you don't use the AH much. It's nice because it gives you info on average prices and such if you look at the item fairly regularly. On top of that it makes posting items on the AH very easy. I love it because I can post a stack of Flasks as individual flasks in less than a minute.
Warning: Turn this addon on off while you raid. I only have it turned on for my bank alt, because it takes up a lot of memory.

Lightheaded
- One of the best questing addons you will find. It allows you to see the quest comments from WoWHead ingame. It can also work with addons like Tom Tom and Cartographer to show you where your objectives are. Turn off while raiding.
Doublewide
- This may be irrelevant after 3.2 is released, but I will list it anyway. The current blizzard Questlog is horrid and Doublewide makes it managable.
Zygor
- I only list this one because it is an addon and I use it. This is my leveling guide addon on. You do have to pay for it, but I think it is worth it. Some people prefer addons like Questhelper, because they are free. I tried Questhelper and hated it.
Cartographer
- Some people love it, I hate it. I only have it because Zygor uses it. Don't get me wrong. I think it has some very nice features, but it seems to cause a UI errors for me. I know that Cartographer is not necessarily the problem, but getting rid of it fixes the issue. Therefore I don't raid with it.
My Raid Frames:
I want to make a quick comment about my raid frames. For those of you that don't know the raid frames at the bottom left of the screenshot is from the Blizzard UI. I've thought about using Grid or somthing else, but they all sound like they are more trouble then they are worth. The only problem I have with the blizzard raid frames is that I can't lock them down.