In my last post I mentioned how LoE is working on Hodir Hard Mode. After a near miss on Monday, we came back in on Wednesday determined to get him down in under 3 minutes. It took a couple of attempts, he went down with time to spare on the night. To make it even better I got a new shiny.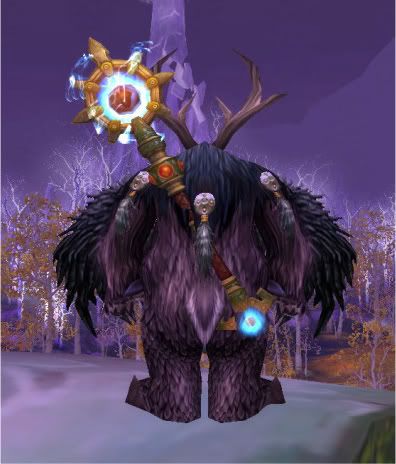 That's right. The
[Staff of Endless Winter]
dropped and I won it. I've named her Lucille and yes she is a girl. As most of you know this is an awesome Staff, and I've rated it as BiS in my list. Some may think that a MH/OH combo would be king given the weapons and off hands that drop off of Algalon, but I disagree. That would only be true if you needed the hit and most Moonkin I know are working hard to stay at the cap.
All of that said Hodir Hard Mode was harder then I expected. The general consensus from around the forums and the WoW community seems to be that Hodir is the easiest hard mode of the keepers at least. On top of that my 10man group had absolutely no trouble with him. So when we started our attempts last Thursday I was very optimistic.
I don't really like to write Moonkin Boss Guides because I think they are highly dependant on how your guild is dealing with the encounter. So what helped me might not be applicable to your situation. That said I think these tips are fairly universal.
1.
Know your Buffs
: The NPCs provide 3 buffs. Getting these buffs and stacking them in the right way is the key to winning this fight. They are:
Storm Power
- Increases critical strike damage by 135% for 30 sec. - This is the most important buff a moonkin can get in this fight. It seems to behave a lot like the
[Chaotic Skyflare Diamond]
. So, instead of a simple 135% increase, its more like a 200+% increase to our crits. With all of the buffs combined my Starfires where criting for over 65k damage.
The tough part is getting the buff. The shaman will cast it on one player and that player will give the buff to 6 other near by players. I found it difficult to see who had it, and therefore hard to actively pursue the buff. Hopefully your Raid Leaders have DBM or Bigwiggs and those addons are putting a skull on the person with Storm Cloud. If you see a skull, run to it. The other suggestion is don't get separated from the group. More often then not I got the buff without seeing who game it to me. Staying near the group helps this.
Toasty Fire
- This buff is the second most important and does a couple of things. First it allows you to apply
Singed
to the boss which will due additional damage and make him vulnerable to magic damage. As nice as that is, it is not the real benefit of this buff. It also prevents
Biting Cold
from stacking, this allows you to stand and nuke the boss with little or no movement necessary. As we all know, movement is a moonkin's enemy.
Starlight
- Attack and casting speeds increased by 50%. - Having an additional 50% haste is awesome, but I think you can see why I rank it last. The 50% haste is only going to affect your Starfire casts because most moonkin will already have 400 haste. On top of that, the buff area is pretty small which might cause players to clump up and get targeted for Icicles.
2.
Power Auras
: I think this addon or one like it is essential for pushing maximum DPS for this fight. What it does is allow you to program an on-screen alert when you get a buff or debuff. This way I knew when I new for sure that I was standing in a Toasty Fire or Starlight. I also new exactly when I got Storm power so that I could pop consumables and such.
All in all a great mod. I already use it to track my 4T8 procs, and I can think of a few other bosses where it will be a big help.
3.
Consumables
: Normally I like to save my potion cooldown in case I need mana or health, but this is one of the few fights where I think a DPS pot is really helpful. Popping a
Potion of Wild Magic
at the right time can give you a big boost to your DPS. I tried to pop them when I had Eclipse and Storm Power. If I could get Starlight as well that is awesome.
Some of you may be wondering why Wild Magic instead of
Potion of Speed
. Hodir is such a movement heavy fight that it is easy to lose the benefit due to a cancelled cast. On top of that you may not benefit from it if you have Starlight. Wild Magic on the other hand is a little less risky and works very well Storm Power and the other buffs.
4.
Watch Your Aggro
: I learned this lesson the hard way. Early in one of our attempts all of the stars aligned for me. I found a Toasty Fire quickly, Starlight spawned near me, I got Storm Power, and SF Eclipse procced. I popped a Potion of Wild Magic and started shooting off 1 second Starfire Crits for 65k damage each.
Unfortunately, I as fairly close to the Boss and ripped aggro off the tank. We were only a minute into the fight and I was dead. Just remember to watch your aggro like a hawk when you start to get a lot of buffs.